This year we have "My Garden Wedding" as the Raffle quilt. Funds collected from ticket sales help the guild buy fabric and batting for Community Quilts.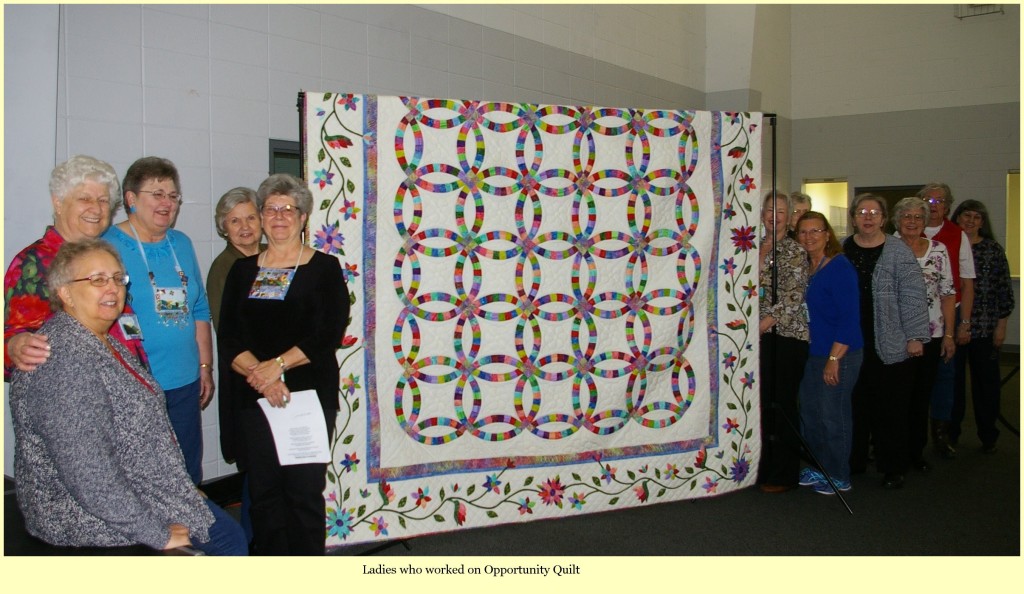 Quiltmakers (above) from left to right: Sue Rogers, Maureen Forster, Co-chairman for raffle quilt productions, Sharon Crozier, Annie Wagar, Vicki Kauth, Mary Hazel, Joan Woodard, Shirley Hamilton, Roxine Burch, Marilyn Schaub, Arlene Myslinski and Gail Lunn
In the News article about this year's quilt: Many Hands Make a Fine Raffle Quilt (May 2017) These are the organizations that receive donations:
*Baxter Regional Medical Center–Women's Centerl 
*Baxter County Health Department
*Marion County Health Department
*Baxter County Sheriff department
*Mountain Home Police Department
*Hospice House of the Ozarks
*OMART
*Serenity, Inc.
*Alpha House
*Gamma House 
Special Donations To:
Tornado Victims:
*1997 Arkadelphia
*1999 Kosovo
*2005 Katrina
*2008 Gassville
*2011 Alabama
*2011 Joplin, MO
*2011 Japan (tsunami)
9/11/2001 Terrorist Attack Survivors:
*2002 Auction Quilt (Anchor Project)
Service Flags: Mountain Home National Guard Unit
*2003
*2008