Want to become a member or renew your membership? Click here for the Membership Form revised 1-17-23
Our next meeting is our QUILT SHOW!!! No October guild meeting. We invite you to our Autumn in the Ozarks Quilt show at the Baxter Co Fairgrounds on Friday Oct 13 (9-5) and Saturday Oct 14 (9-4). Quilts, Vendors, Games for the Family, Demonstrations, Exhibits of members who passed, classes taught, and modern quilts. $7 Admission (children under 12 free).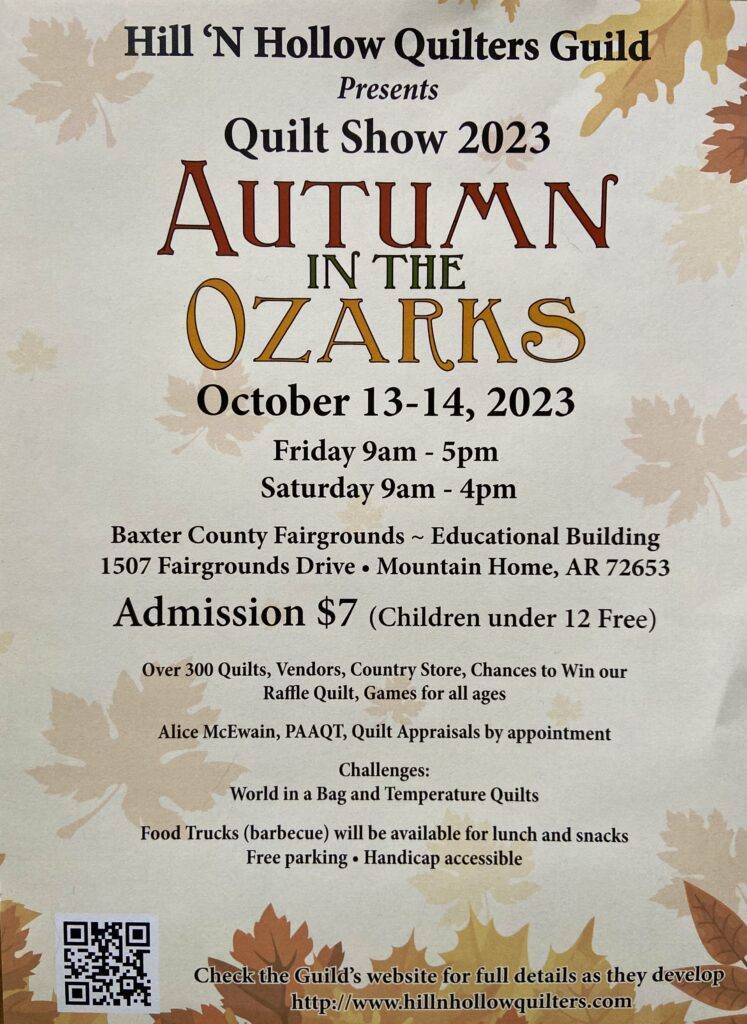 Our November 10th  guild meeting (from 9:30 to 11:30) will be held at the The Christian Church of Mountain Home located at 1365 Eastside Center Court Mountain Home, AR 
Our September Program featured  Merrilyn Scott's "My Quilt Journey" trunk show.
Merrilyn's Antique Hexi from childhood that she repaired. Can you see where?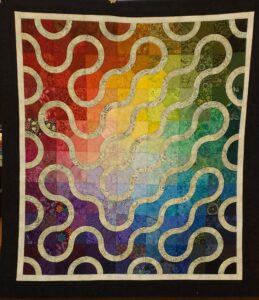 Merrilyn's Snaky Curves in a rainbow.
September was also our World in a Bag Challenge–bags being donated to Into the Light organization that helps children in need.  Our three winners were 1st Donna Perrin; 2nd Sharon Crozier, and 3rd place Carol Lewis.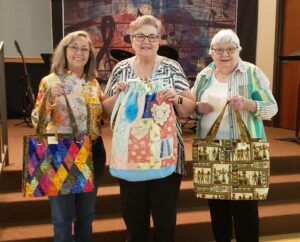 Charitable guild hand-quilters volunteered their talents at the 150th Anniversary of Baxter Co at the Rapp Barron Pioneer Days. Dressed in period costumes, quilters taught the art of quilting on a frame, hoop and hand piecing.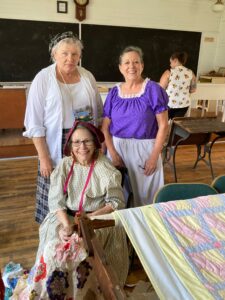 Marge Schill, Diane Siddons and Jonna Butler.
Below Donna Perrin and Peggy Moody at the frame with their own projects on the hoop.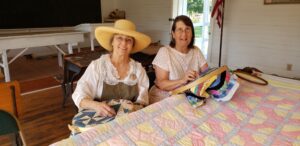 Raffle Quilt Opportunities are at
Autumn in the Ozarks Quilt Show Oct 13 & 14 (Baxter Co Fairgrounds)
Stone Creek Art Expo November 17 & 18

Contact Frieda Mauthe [email protected] (cell) 785-844-1275
Note:  If the Mountain Home schools are closed or the buses are running only snow routes, there will be no Guild Meeting. Please tune to KTLO 97.9 to hear the school closings.  www.ktlo.com1