Sandy Beasley is the Chair of Community Quilts in 2022. Co-chairing are Wanda Kelley and Charity Beckley.  For information about the guild's commitment, contact us at hillnhollowquilters@gmail.com.
**Instructions for Guild Members making Community Quilts are below Photos.
It is our community service project to make baby size or larger quilts that are donated each year to Baxter Regional Medical Center or any other area agency that is approved by the Guild executive board. Currently those include the To date,
1. Baxter Regional Medical Center Women's Center Nursery

2, Hospice House

3. Serenity House

4.The Call/Casa

5. Center for Hope

6. Gamma House

7. Marion County Health Department

8. Police and Fire departments
To date, Hill 'N Hollow Quilters have donated over 6000  quilts to organizations across Baxter and Marion Counties.
July 2021 Donation to Serenity House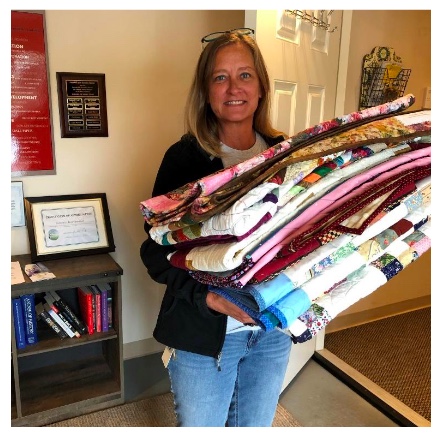 Samples of 194 quilts donated in 2019

The Baxter Regional Medical Center Womens' Center/Nursery was accepted by Regina Fears RN on April 3, 2019.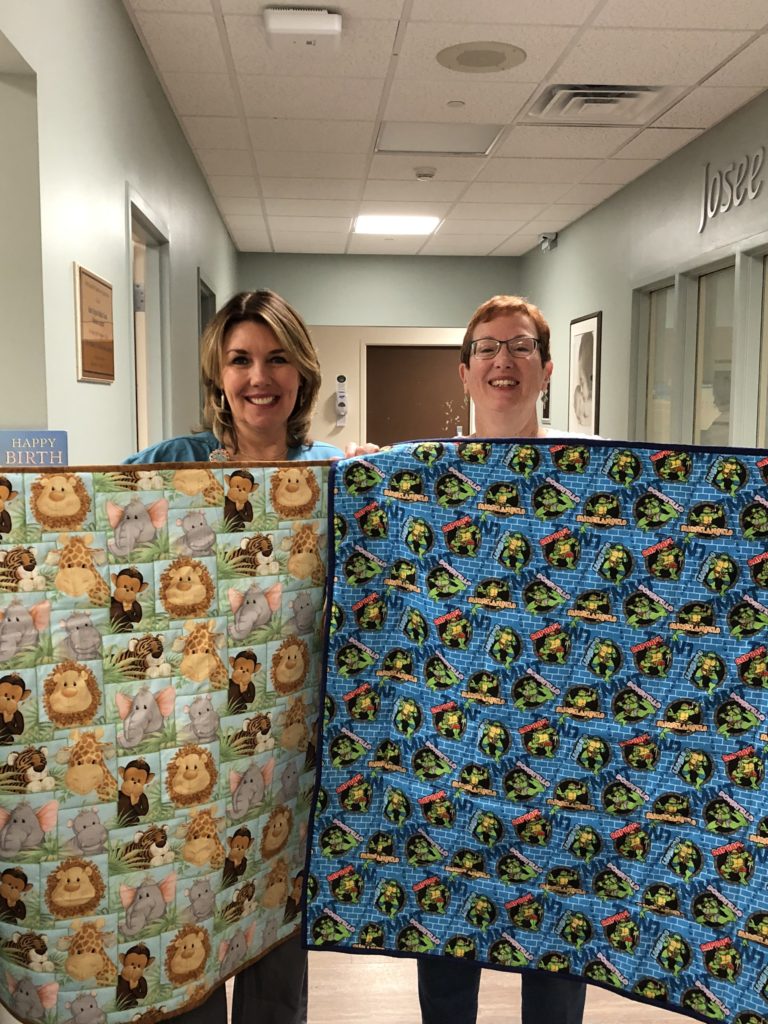 Below, Linda Lamley LPN accepting quilts for Hospice House of the Ozarks on 3 April 2019.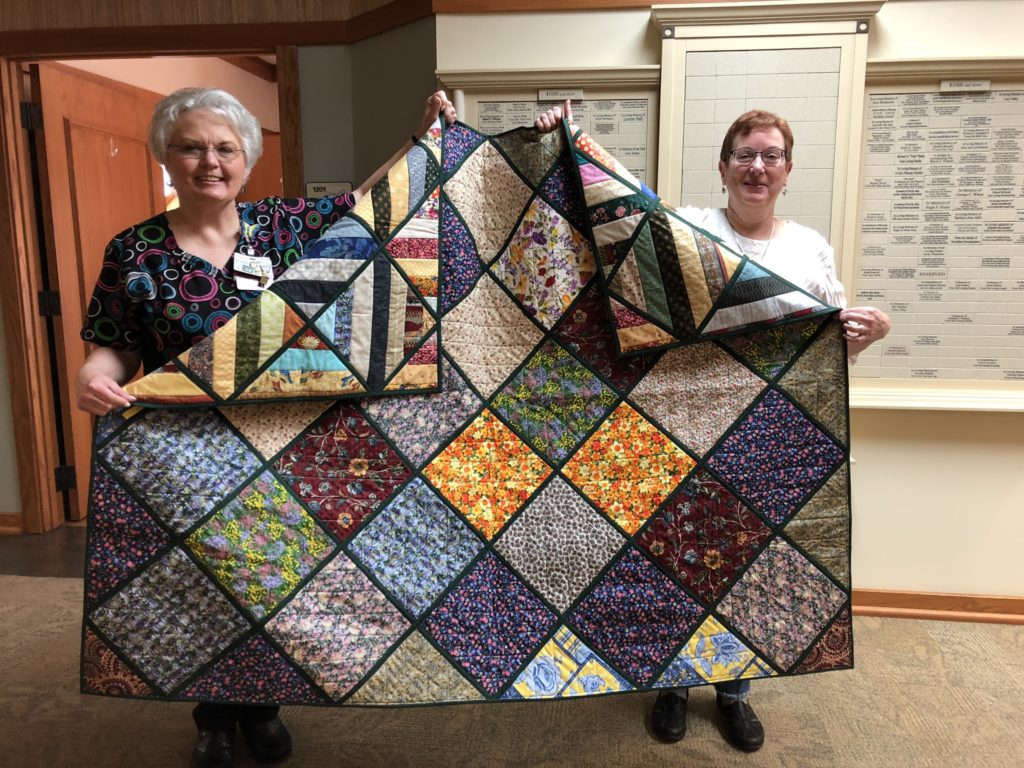 Examples of 2018 Donations
Gary Pyszka , Fire Inspector for the Mountain Home Fire Department (and Sandy Allenbaugh)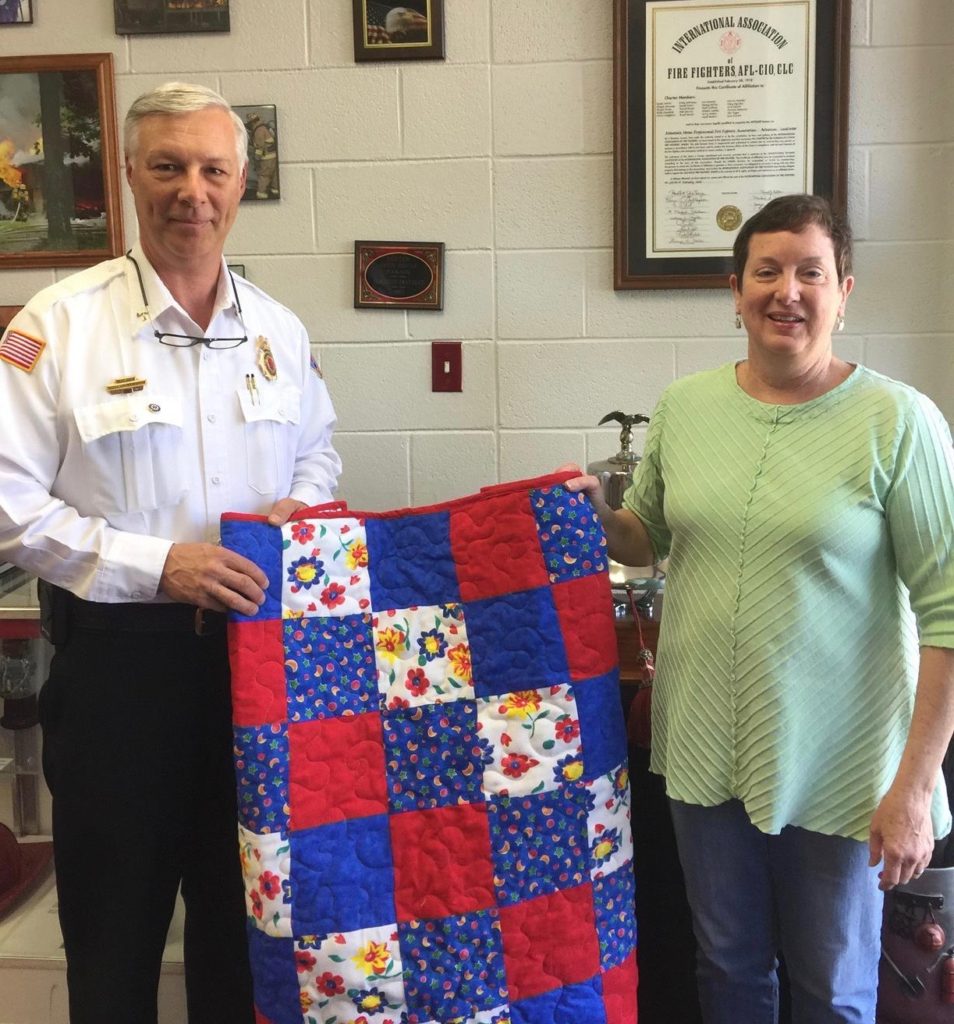 Eric Neal, Patrol Division for the Mountain Home Police Department (with Sandy)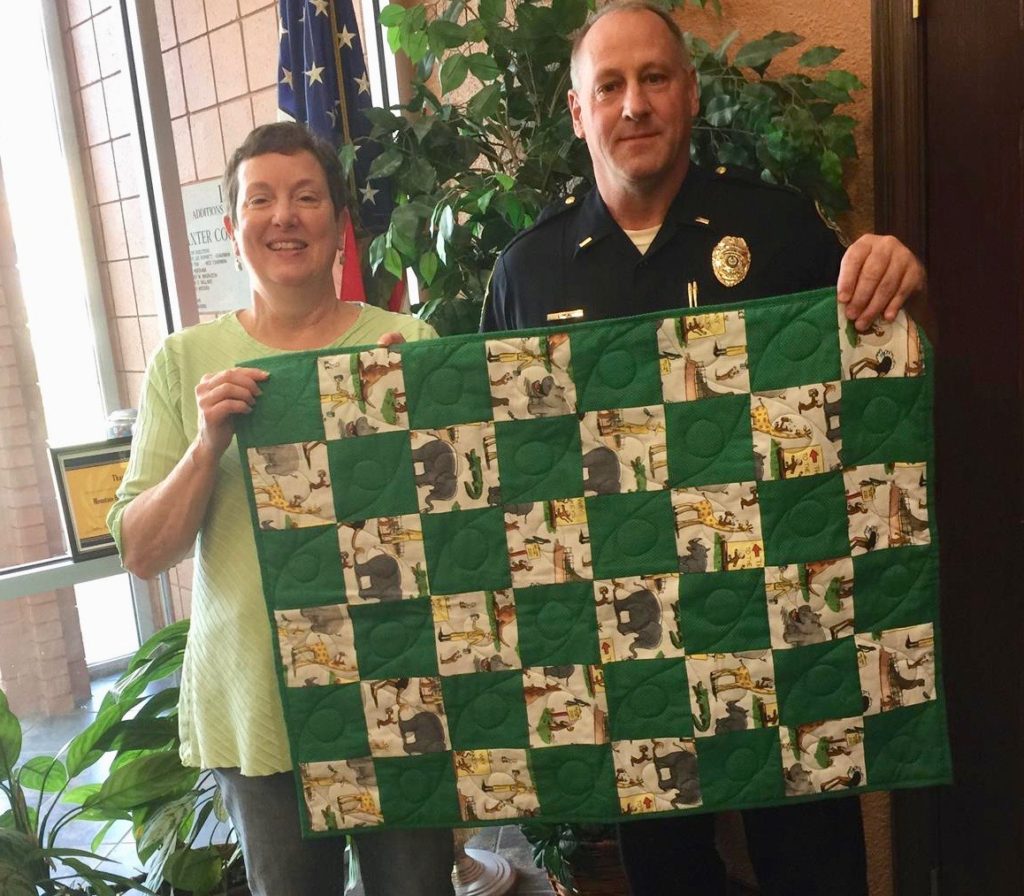 The staff at the Baxter Regional Hospital Women and Newborn Care Center (with Sandy in back)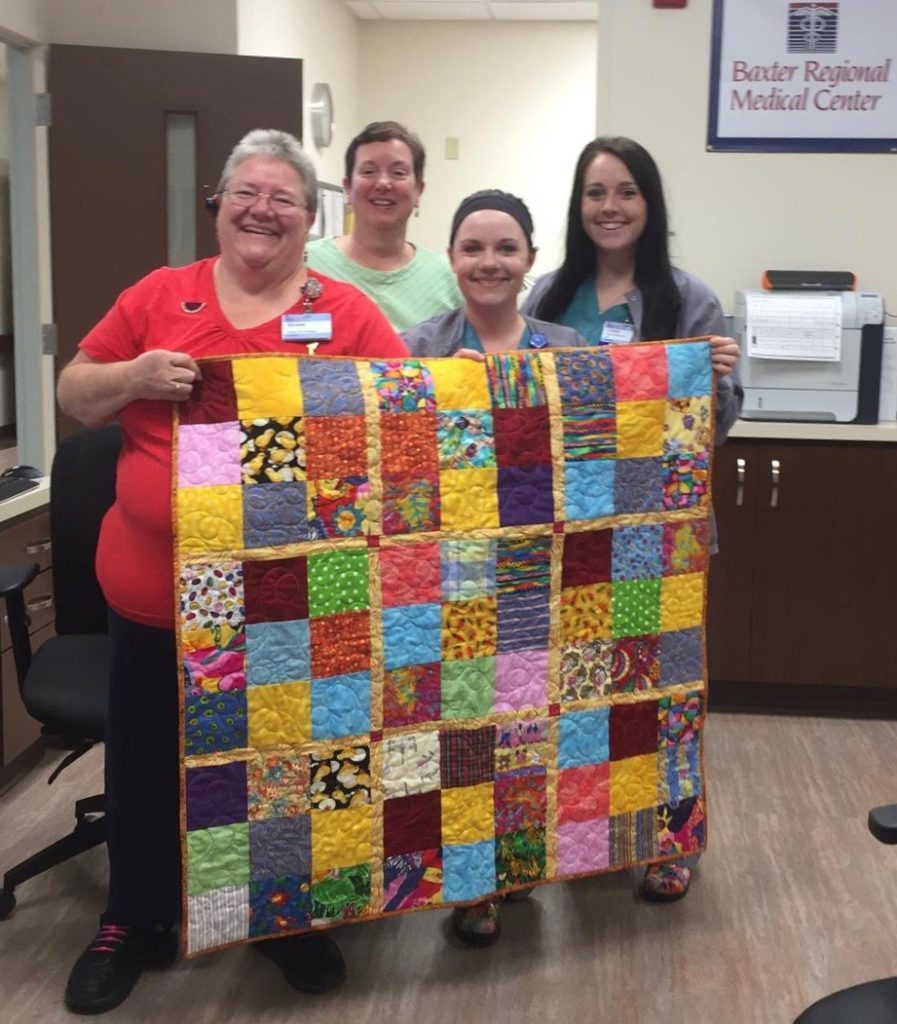 Serenity House Accepts Quilts (article link below)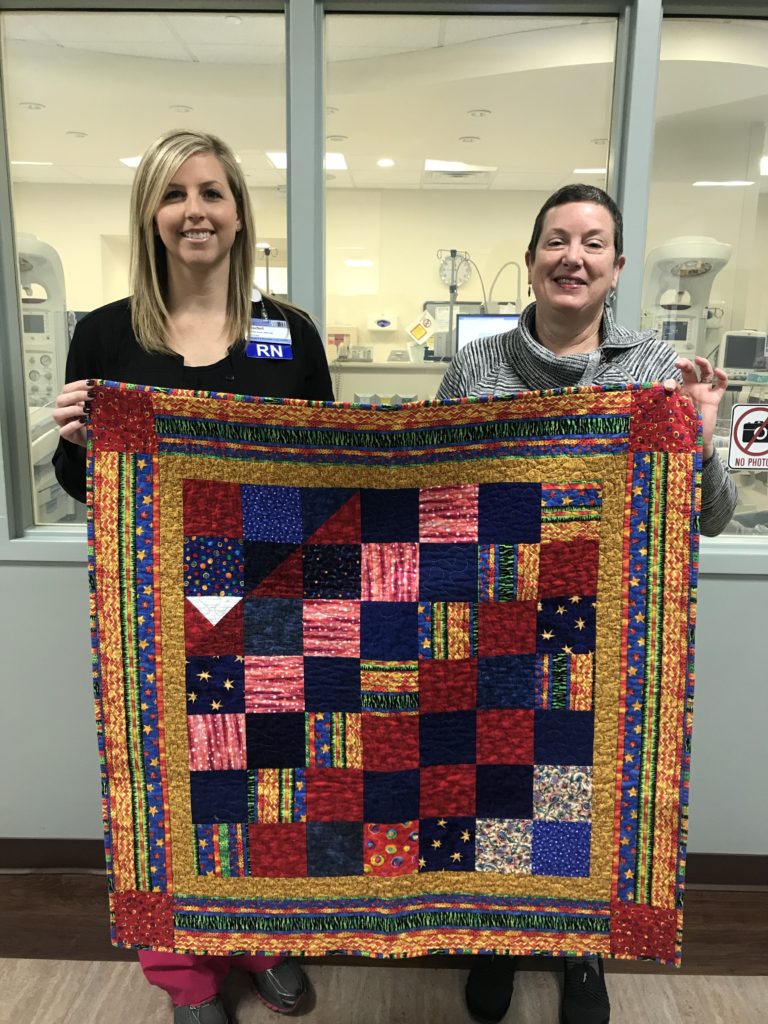 Serenity House Receives Five Quilts Jan 2018
In 2017, the guild donated 128 quilts.
For Guild Members:
The Guild has a commitment of one quilt per member and encourages members to make additional quilts.  Those who make five or more quilts during any one year will receive a special pin chosen for the year. A twin size quilt donation will count as 2 quilts; and if different individuals piece and quilt a quilt that both will receive credit for donating one quilt.
Some guidelines to consider for your community quilt donation:
Label–All quilts should have a label sewn onto the back indicating that it is a gift from Hill 'N Hollow Quilters Guild.  Preprinted labels will be available from the chairperson or you may make your own.  IMPORTANT–Copy and print directly onto colorfast printer fabric and follow directions carefully or use  "Bubble Jet Set"
Labels for Community Quilts 2018
Fabric – We tend to use 100% cotton fabrics in our quilting projects, but baby quilts are an opportunity to use up some cotton/polyester blends that might be in our stash.  Flannel may also be used.  The choice is up to the member.
Size –  Baby quilt panels are 36 x 44 and baby quilts should be at least that size or slightly larger.
Batting – Batting loft and fiber appropriate for the type of quilt should be used.  Leftover batting strips of the same type may be pieced to make the size needed.  Packaged crib batting is 45" x 60" or you can cut up a queen-size batt (90" x 108") and get four 45" x 54" batts or six 36" x 45" batts.  Crib batting is frequently available from the Community Service Quilt Chair.
Tops – Any pattern of the maker's choice may be used.  It may be a single fabric (plain or printed), pieced or appliqued.
Backs – These may be made of single fabric (easily done if you limit one dimension to no more the 45") or you may use larger leftovers to quickly piece a back.
Quilting – Baby quilts may be tied, machine quilted, or hand quilted.  Please DO NOT use invisible nylon thread, as it can be dangerous to babies
Finishing – Baby quilts may have a traditional binding or be made envelope style by turning
Lap robes (approx. 52 x 64) and twin size (approx. 72 x 90) quilts that are appropriate for older children or adults may also be turned in to the Community Service Quilt Chair at any meeting.  They should also follow the above guidelines, except for size.  You will be given credit toward earning a pin for these also.
Be sure to carefully check all quilts for any forgotten pins before turning them in.
Have fun!  Be creative!  Try out a technique or method you might want to incorporate in another project you are considering.  It will not be judged.  But it will be appreciated.
Sandy found several free patterns from Pat Sloan. Click on the link to download instructions. Photos samples are below.
pat-sloan-block-23-directions-solstice-challenge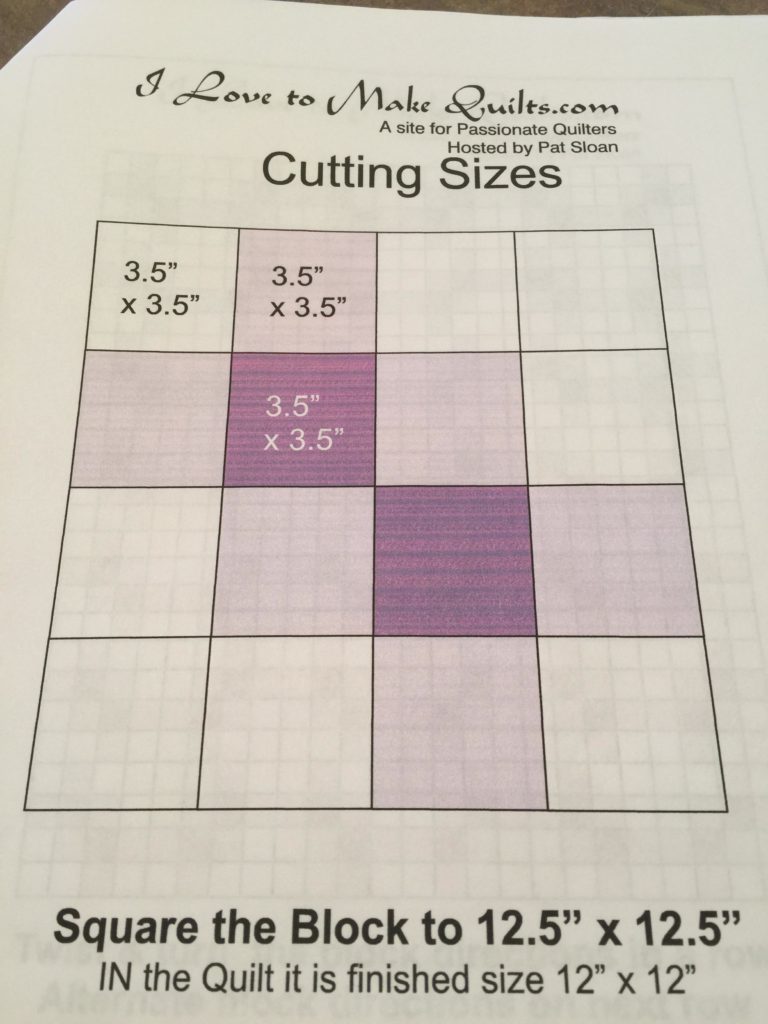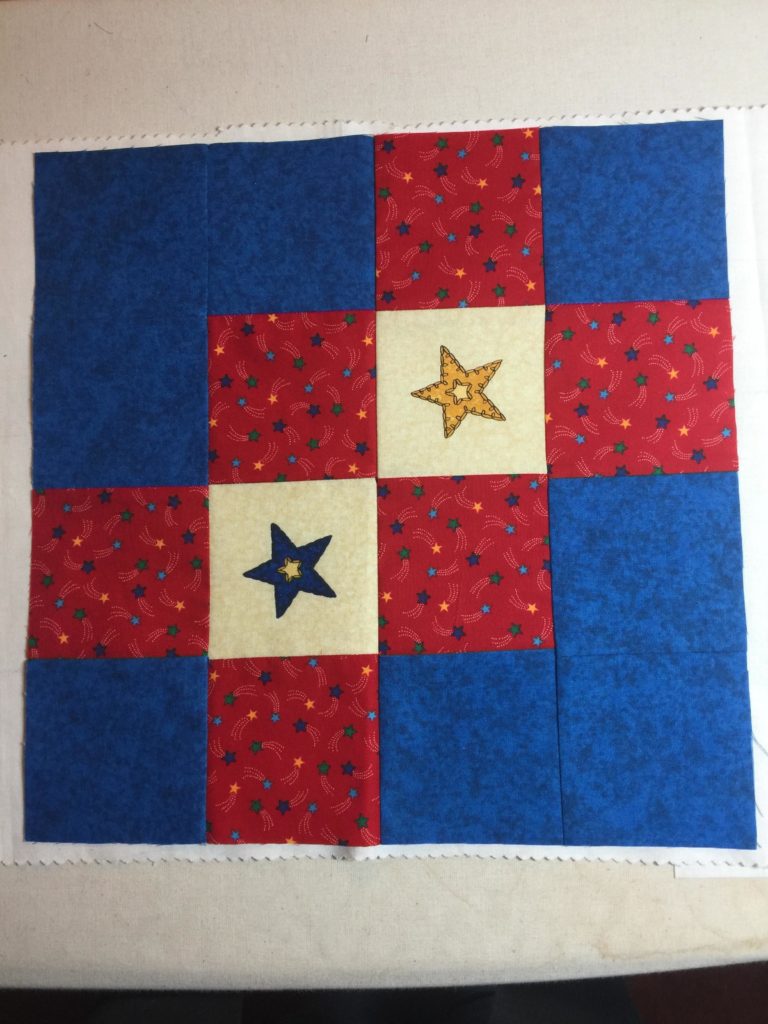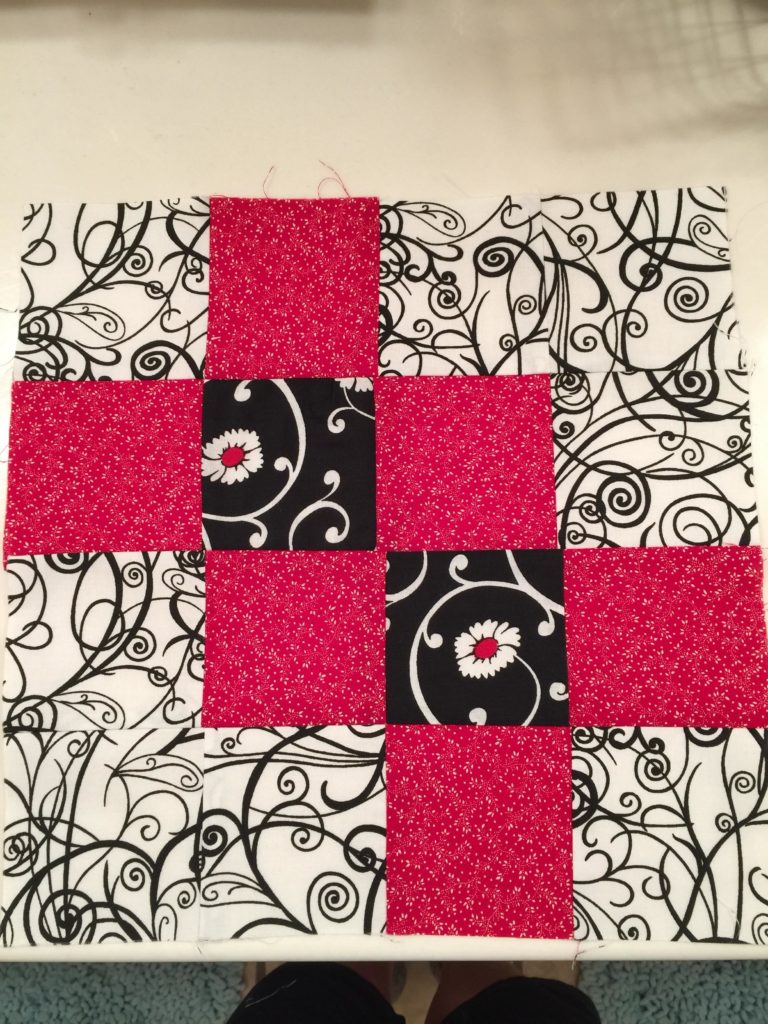 Turn in your quilt(s) to the Community Service Quilt Chair, Sandy Allenbaugh, so that you are credited with your donation.
Quilt Sew-in
The Community Service Quilt Chair may also determine a time for a group sewing event to make baby or other community service quilts as the need arises.